I have been all about crockpot meals lately, but I'm also very particular about the types of crockpot recipes I use. For me, any recipe I follow needs to be a "dump and cook" type recipe. Not one that requires a ton of cooking steps before the items go into the crockpot. That is why I love these crockpot chicken fajitas, which are also very kid-friendly.
Crockpot recipes are great for many reasons (particularly the fact that they cook while you are doing other things.) One of my favorite things about crockpot recipes is that you can make large amounts of food so you can get several meals out of one recipe.
The best crockpot chicken fajitas
For those of you who follow along with me often, you know I am all about creating recipes that are kid-friendly, particularly as they relate to having lower salt and added sugars, two ingredients I personally try to limit in young kids. I also love encouraging kids to try veggies in new ways while also getting in a good source of iron. These crockpot chicken fajitas fit the bill! Some other reasons I love them:
The chicken comes out super soft and tender-great for babies, toddlers and young kids who tend to push meat and other iron-rich foods aside.
Chicken is a great source of heme iron, also important for babies and young kids developing brains.
The tomatoes and peppers are a good source of vitamin c which helps absorb iron even more efficiently.
This recipe makes a lot of food! I made this when my parents were coming to visit, so it fed 4 adults + 1 toddler for the initial meal + enough leftovers for 2-3 extra meals.
I used the leftovers to make quesadillas the next day and make enough extra quesadillas to freeze for another meal on a weeknight when I didn't have much time.
Using 1 recipe to make several meals saves both TIME and MONEY, two things parents don't usually have a lot of.
Why crockpot chicken fajitas vs. cooking another way
This is simple! When you use the crockpot, you simply add the ingredients, turn it on and let it cook. No need to be constantly checking the oven, standing by the stove or deal with cooking while you have a screaming toddler on your leg. 🙂
I've moved toward using crockpot recipes VERY often since my daughter came along. And, I'm all about helping other moms get nutritious dinners on the table that help their kids learn to like a variety of food but in a low-stress way.
Recipes for hope campaign
Saving parents time and money is something I am passionate about. Throughout my years working as a pediatric dietitian, I have encountered numerous food-insecure families. I believe all families should have access to quality healthcare, nutritious food, and education on how to prepare food in healthful ways that also stretch their budget.
That is why I have agreed to partner with Convoy of Hope for the 2019 Recipes for hope campaign. Since today is world food day (which promotes awareness and action for those who suffer from hunger), I wanted to share this recipe and this campaign with all of you! (**This is NOT a sponsored post, just a topic I am passionate about.)
Over 800 million people around the world suffer from hunger and helping them is easier than we think! Convoy is taking major action specifically addressing the issue of hunger through their children's feeding initiative. Through this  Feed ONE initiative, they are feeding 200,000 kids in 14 different countries around the world. To learn more about how you can help, visit: Feed ONE here!
Now, I'm not a food blogger so I don't have any more beautiful images of these fajitas to share, so I'll get straight to sharing the recipe.
---
I hope you enjoy these! If you make them, I'd love to see your crockpot chicken fajitas post on social media! Tag me on Instagram @ElementNutrition.Kids so I can see 🙂 You can also come join my free facebook group for parents and share there!
---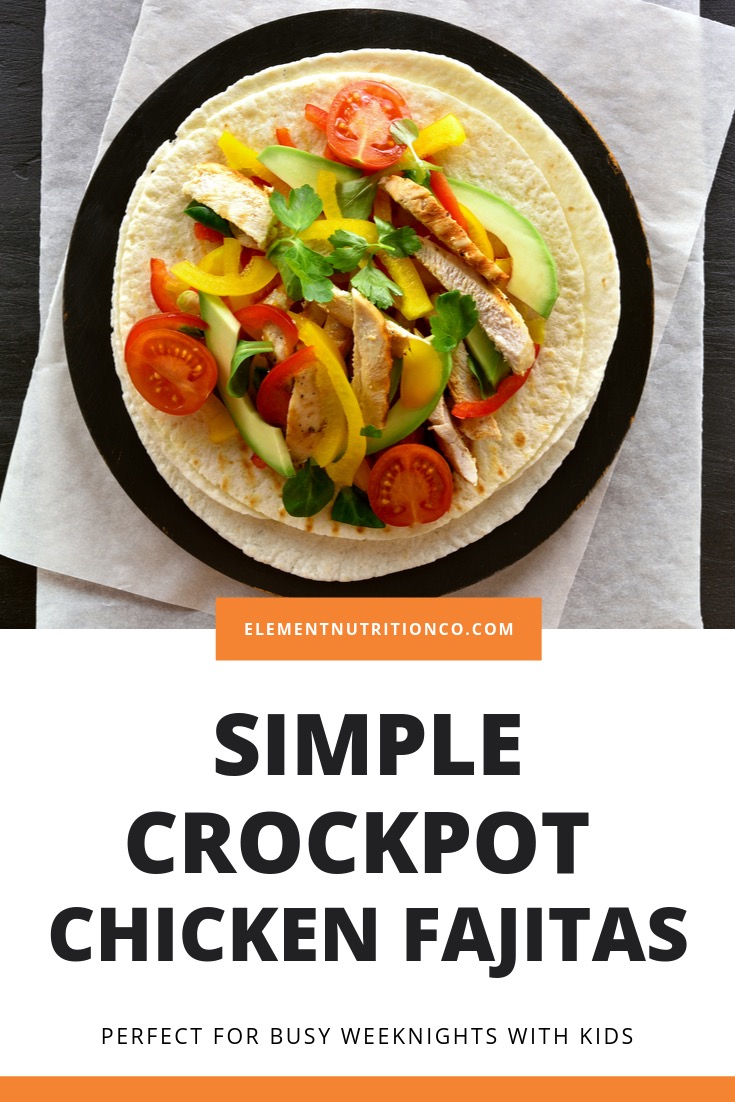 Delicious crockpot chicken fajitas your whole family will love. Perfect for babies (especially baby-led weaning), toddlers and older kids. These are also a great way to encourage your kids to try veggies in a new way! The best part about this recipe, it makes a lot, so you will have enough for left overs a few times!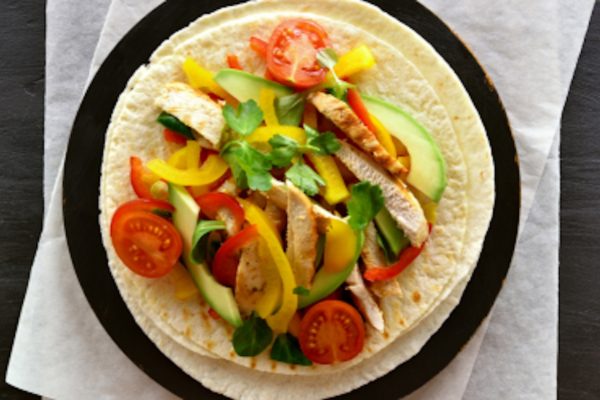 | | |
| --- | --- |
| | |
Place 1/2 can of diced tomato in the bottom of the crockpot

Top with 1/2 each of the onion, red and green bell pepper strips

Lay chicken breast over the top

Sprinkle the seasonings over the chicken

Top with the remaining 1/2 can of tomatoes & minced garlic

Add the rest of the onion and bell peppers to the top

Cook on low for 6-8 hours or on high 4 hours (or until chicken is cooked through)

Note: chicken will "shred" which works great for fajitas.
I used the leftovers of this recipe to make quesadillas for another meal during the week. You can keep leftovers in the fridge for up to 3 days. Around 1-2 days after you make the fajitas, use the leftover mixture to make quesadillas for dinner. Then, make extra quesadillas, cut into triangles and then freeze the cooked quesadillas for another meal when you are short on time. (This will give you 2 more meals!) To re-heat frozen quesadilla triangles: heat oven to 450 degrees, break apart frozen triangles and spread in an even layer on a baking sheet. Heat for around 10 min or until they are warmed through.