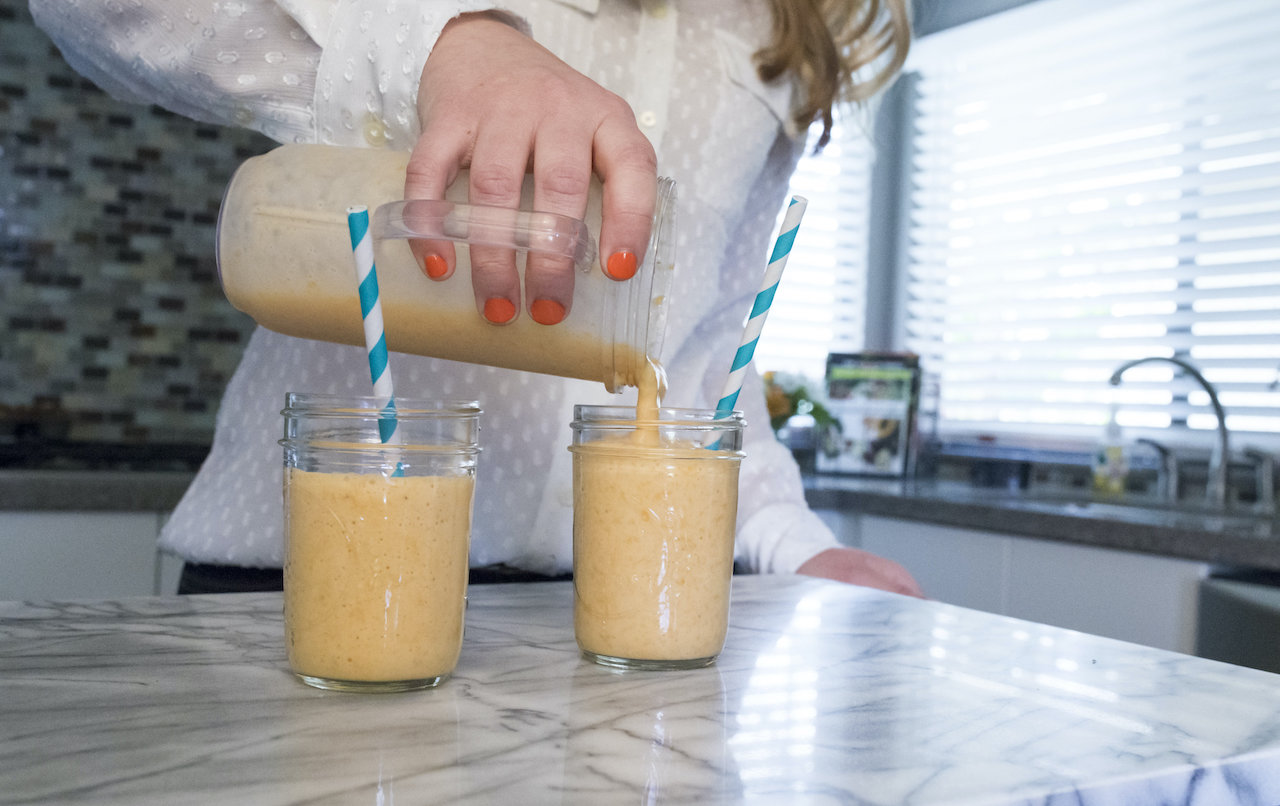 Whenever I am working with families, the smoothie question always comes up. With. Out. Fail. Parents always what to know the best smoothie for kids. While there isn't a "best" smoothie, I love this orange creamsicle smoothie!
Smoothies have fruits (and veggies) so naturally, they must be healthy right? The short answer to this question is.....sometimes.
Smoothies can be a great way to get in some extra fruit and vegetable servings while providing a balanced nutritious meal or snack. However, they can also be very high in energy (calories) and added sugars depending on the ingredients and if you make them yourself or buy them somewhere.
What should you put in a smoothie?
Fat/Protein
If you are making a smoothie for kids, you want to make sure you are including a protein and or fat source along with the fruit/veggies you include. I love this orange creamsicle smoothie because it includes full-fat greek yogurt (fat and protein).
Adding in some fat/protein gives the smoothie the "full factor." This means it helps kids stay full longer.
Since smoothies are blended, half of the digestive work that the stomach would normally do when it eats food is already done. This means that without a little fat/protein, it isn't going to stay around long=hungry kids.
Some of my favorite fat/protein sources for smoothies include:
Nut/seed butter (peanut butter, almond butter, sunflower butter, cashew butter)
Yogurt (plain unsweetened regular/greek/soy yogurt)
Seeds (chia, hemp, flax seeds)
Avocado
Fruit/Veggies
If you are using fruit, fresh or frozen are both great choices. For kids, be mindful of how much fruit is going into the smoothie.
When it breaks down (is blended) the volume is often smaller than if they were eating it fresh. Kids often get 2-4 times the fruit in a smoothie than they would when eating it whole. Keep in mind 1 serving is about 1 cup of fruit.
Adding veggies to smoothies is great, but I never recommend doing it as a way to "sneak" veggies into your kid's diet.
When you do this a few things are happening.
They are not really learning to like the veggies anyway, because the flavor is masked by the fruit. (Not helping the problem)
If they find out you are sneaking in veggies, the trust goes way down.
Remember: Fruit has a similar nutrient profile, so if they are eating fruit they are probably getting much of the vitamins and minerals they need to grow. If veggies are an issue, focus on serving them frequently (in their whole form) and take the pressure off. In the long run, this helps a lot more!
Liquid/Ice
When you make a smoothie, you need some liquid to help it blend together. If you are using yogurt or nut/seed butter you are already getting some fat/protein, so your liquid can be water/almond/coconut beverage (which are all low in protein.)
If you are not including yogurt or another fat/protein source, then having your liquid be cows milk or soy milk will help boost the protein/fat level for satiety.
Ice is also a great addition for texture, especially when using fresh fruit. It also gives smoothies that "icey chilled" feeling.
There are TONS of variations of smoothies out there that your kids will love, but today I wanted to share one of my favorites. This orange creamsicle smoothie contains fresh fruit and protein/fat making it a great breakfast or snack ideas for your kids.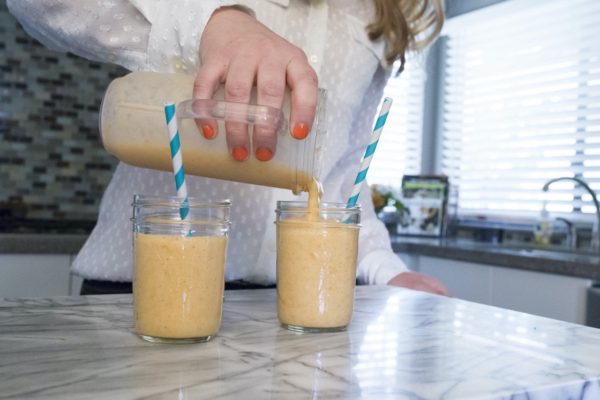 | | |
| --- | --- |
| | |
Add liquid to blender first.

Add yogurt, fruit, ice and seeds

Blend! (Add extra liquid to get texture as desired)