Inside this article: Easily transition your baby through the starting solids process from purees to table foods using dissolvable solids as a gateway. Here I'll review what dissolvable solids are and how you can use them to help your baby get comfortable with more textures so they don't get stuck on purees. Perfect for babies following the traditional feeding or baby-led weaning method of starting solids.
What are dissolvable solids?
Dissolvable solids are foods that easily break down or melt in the mouth from your baby's saliva (salivary amylase) which starts the digestion process. These types of foods are great transition foods for your baby because they provide texture, but don't require chewing to break them down. This can help your baby build confidence with textures in their mouth as they improve their chewing skills.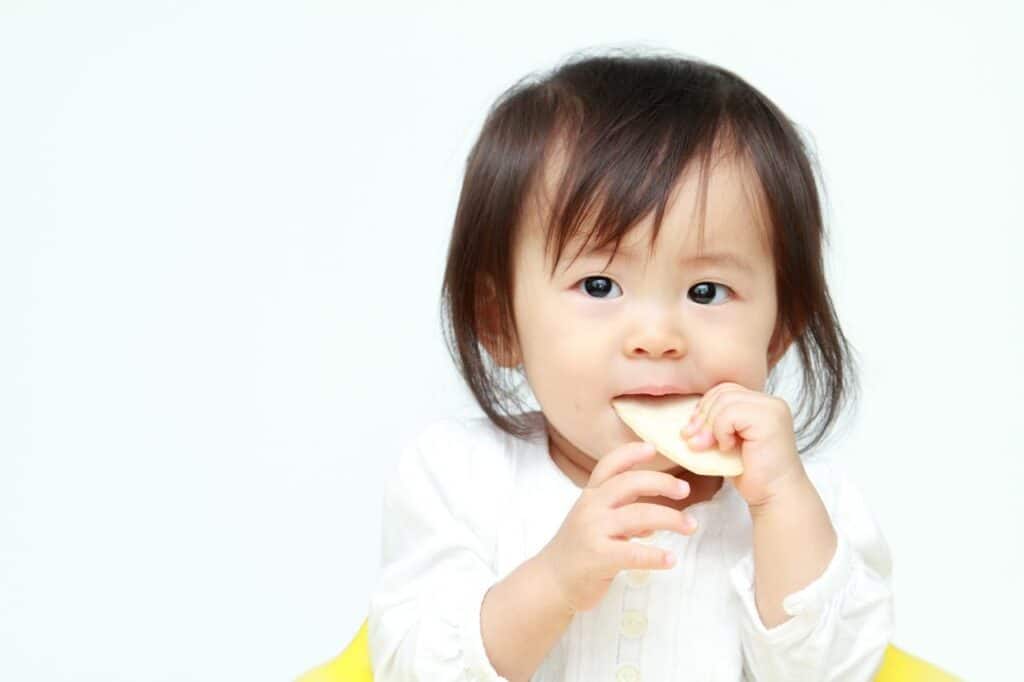 Dissolvable solids to offer to your baby
Teething crackers-happy baby organic, baby mum-mum, and Gerber teethers (*caution many of these are rice-based products.)
Puffed corn-Bamba (*contains peanut protein), earth's best veggie puffs, baby bellies organic, and other similar brands
Puffed cereals-Serenity kids grain-free puffs, mission mighty-me puffs (*contains peanut and tree nut protein), happy baby organic puffs, Gerber puffs, and even regular cereals like cheerios/other o's brands.
Meltables-Amara baby organic smoothie melts, happy baby yogurt melts, and Gerber melts. You can also make your own yogurt melts at home (see below for the recipe.)
Cheese puffs-pirates booty or similar brands (although these are higher in sodium so use them with caution)
High butter content crackers-like Ritz brand, townhouse, or Keebler crackers (also higher in sodium)
When to introduce dissolvable solids
Most babies can tolerate dissolvable solids around 6 months when they show signs of readiness for starting solids. They melt in your baby's mouth, so very little skill is required to consume them. The biggest thing to be sure of is that your baby is actually ready for solids first. They should be able to sit upright without major support among other readiness signs.
You can use dissolvable solids regardless of your feeding method. Babies following both the traditional and baby-led approaches to feeding can utilize dissolvable solids as part of their intake.
Keep in mind, most of the dissolvable solids options are not very nutrition-dense, so overuse of them can actually be counterproductive. Consuming too many can fill your baby up with empty calories that don't support growth and development. This can take away the opportunity for them to consume more nutritious foods. So, use them sparingly and when you do, try to increase their nutritional value when possible.
5 nutritious ways to use dissolvable solids
My favorite way to offer dissolvable solids to babies is by using them as a base for more nutritious foods or as a gateway to new flavors:
Spread teething crackers with nutrition-packed purees. Hummus, pureed beans, fruit/veggie purees, nut/seed butter, pate, or blended meats all work well. The combo of the puree and textured cracker will get your baby used to more texture in their mouths.
Use puffs to "dip" into purees/spreads. Use hummus, thinned nut/seed butter, and other fruit/vegetable purees on the tray or in small containers and let them dip and eat. This helps get the motion of food to the mouth, a skill they will need for self-feeding.
Serve them as cereal. You can use puffs topped with breastmilk or formula as a cereal for babies. The milk also softens the puffs!
Make homemade melts instead of store-bought. You can make your own with whole-fat greek yogurt and mix it in different purees. This helps to change up the flavors. Blend any puree with yogurt and drop small amounts onto parchment paper and freeze. These homemade melts are higher in fat, and protein and are overall more nutritious.
Add them as a topping to yogurt. The combo of the puff and the yogurt gets your baby used to multi-texture meals. The yogurt also boosts the nutrition of the meal or snack since the puff on its own isn't very high in nutrition.
Back when I was starting solids with my son, I would often top teething crackers with hummus as I explained above. You can check out this reel on my Instagram page for this in action.
Using these techniques of offering dissolvable solids will help your baby move past just purees. Once they can handle these well, you should be able to easily move onto chunkier puree textures, followed by soft solids and beyond. Or, if you are using the baby-led weaning approach to feeding, just add them in as it makes sense for your baby's routine.
If you could use more support through the starting solids process, you can grab a copy of my e-guide "Baby's First Bites" which will walk you through the process of starting/progressing your baby on solids while maximizing their nutrition intake.
Rice puffs for baby
With all the media attention surrounding heavy metals in baby food and rice products, parents often ask me if it's okay to serve rice products to their babies.
The short answer is yes, it is ok for your baby to consume rice products. However, the volume of rice products they consume is key and there are other alternatives out there.
Rice retains higher levels of heavy metals such as inorganic arsenic due to the way it is grown(1). Too much of this isn't great for your baby's small developing body. So, be sure to mix up the type of grains you are serving. Instead of serving only rice puffs for babies, also try other grains like amaranth, wheat, sweet potato-based puffs, etc.
Swapping rice-based products for other types of grains can reduce exposure to some heavy metals. Mixing up the foods you offer is the best way to prevent the risk of overconsumption of heavy metals in any one type of food.
My favorite rice-based baby puff is the Mission Mighty-Me puffs because they also provide peanut and tree nut protein exposure. This is important for the early introduction of allergens. They're also just a great overall company in how they support the public and dietitians who teach infant nutrition.
Rice-free puff options for baby
In order to reduce the risk of heavy metal exposure from rice-based products, I encourage parents to alternate the type of puffs and dissolvable solids they offer their babies. Here are three great rice-free puff options for your baby:
I used both puff works and serenity kids (among others) with my son and he loved them! Though they are not technically a puff, we also used Amara baby melts. These are rice free and they were very popular with my son. I loved having them for a quick on-the-go option in a pinch and also served them often alongside his meals.
Homemade baby puffs
If you want greater control over the ingredients in the puffs you serve your baby, you could always give homemade baby puffs a try. You can find many different homemade baby puff recipes online with varying ingredients.
I found this homemade baby puff recipe online and thought the ingredient list looked great. However, keep in mind, anytime you make homemade baby puffs they probably are not going to be as dissolvable as the store-bought ones. It's harder to replicate the "puff" without a special machine to make them.
Homemade baby melts
As mentioned earlier, you can also make homemade baby melts. I made these often for both of my kids and they actually still love them. These are for serving at home though, not on the go since they melt pretty quickly outside the mouth.
Ingredients
1 cup full-fat yogurt of choice (I prefer plain unsweetened greek yogurt)
¼ cup fruit puree (my kids love strawberry) OR creamy nut/seed butter
1-2 Tbsp (Optional) Sweetener (maple syrup or honey)* Don't give honey to babies, only use this if making for kids over 1 year.
Directions
Mix all ingredients together in a bowl
Add to a ziplock back, cut off a small tip of the corner
Pipe pea size drops onto parchment paper on a plate and freeze them for 3 hours
Pull the drops off the paper, place them in a container, and store them in the freezer
Serve melts as desired (FYI: these melt very fast! Store-bought melts are freeze-dried so they don't melt outside the mouth, but these will so don't put too many out at once.)
Summary
Dissolvable solids are a great option for babies during the starting solids phase. Use them as a transition from puree to more solid table foods. They can also be used as a base for self-feeding. Foods like pureed beans, hummus, and pureed meats, are great spreads on crackers and can be used with either the traditional or baby-led feeding method.
Always be sure your baby is showing signs of readiness for solids before giving dissolvable solids.
Be sure to mix up the type of dissolvable solids you are offering your baby. Limit rice-based products to reduce exposure to some heavy metals such as inorganic arsenic, which is found in higher quantities in rice.
Dissolvable solids can be great transition food but they are low in nutritional value. Try not to serve as a stand-alone snack or meal often. Doing so can fill up your baby's tiny belly with empty calories and get in the way of meeting key nutrient needs.
If you need more help through the starting solids process with your baby, you can download my starting solids guide "Baby's First Bites" or schedule a 1:1 consult and we can go deeper into your baby's specific nutrition needs.