If you struggle with how your kids eat, you are not alone, feeding kids is hard. That is why I believe every parent deserves access to a pediatric dietitian.
Unfortunately, many parents don't know the difference between a dietitian and a nutritionist and how to find a qualified pediatric dietitian. Instead, many parents are left searching the internet for advice, and often that advice isn't the best.
In this post, I'm going to review what a pediatric dietitian is, why it is important to see a dietitian specializing in pediatric nutrition for your kids, and how you can find one. *If you're looking for a pediatric dietitian to work with you can contact me directly for more information.
You can also download one of my free guides to get you started with feeding your baby, or your toddler/kids or check out @ElementNutritionKids Instagram for a ton of helpful information on feeding your kids.
As a pediatric dietitian, I love supporting families who are struggling with their child's weight/size or how they eat in general (picky eating is a common one). As a mom myself, I recognize that feeding kids isn't always easy. That is why getting the support you need is so important.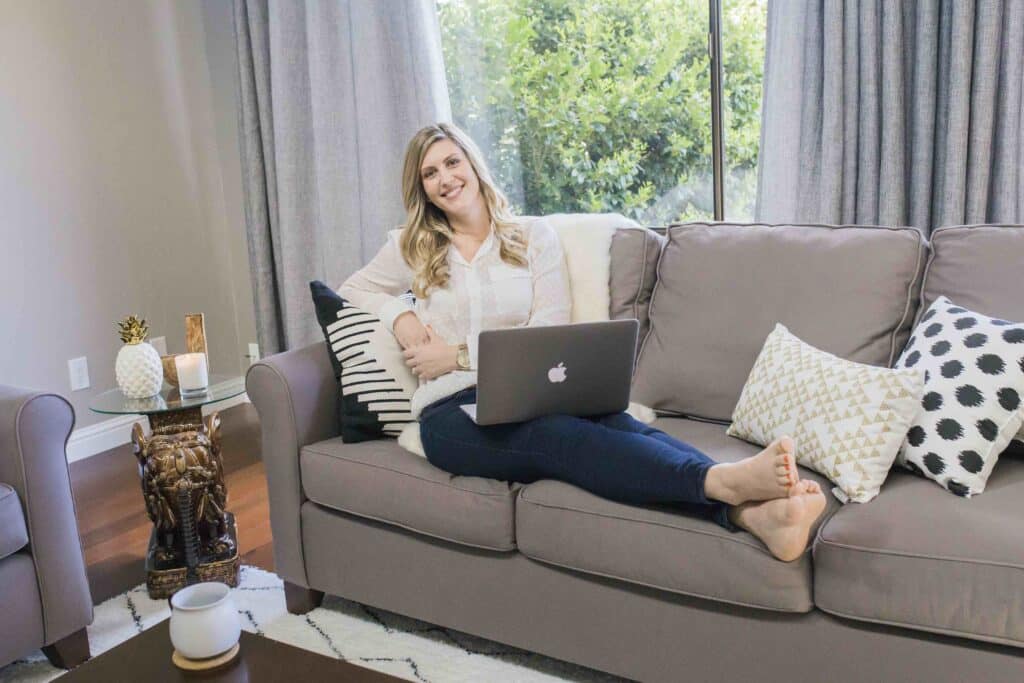 What is a Registered Dietitian Nutritionist
Before I dive into the details of a pediatric dietitian, it's important to first know what a registered Dietitian is. Becoming a registered dietitian is the first step before specializing in pediatrics. A Registered Dietitian Nutritionist (RDN) is a food and nutrition professional that has met very strict educational standards.
Bachelor's degree: at an accredited university with specific coursework approved by an accreditation council. (This will soon require a Masters Degree.)
Internship: you then have to be accepted to and complete a supervised practice program. (This is basically an intensive internship-40 hour per week.)

During this year you work under experienced dietitians in the field.
The internship includes rotations at a variety of locations from hospitals to schools to community clinics to sports teams.

Board exam: after you have completed the internship, you are eligible to take a national board exam.

The purpose of this is to determine competence.
There is a minimum score that has to be met to pass, if you pass, you have your RD credential.

Continuing education: once you become an RDN you have to maintain your knowledge level.

75 units/hours of education every 5 years.

Specialize (optional but important): once you have extensive experience in an area, you can claim a specialty. This needs to be more than just a personal experience.
If you want to know more details on this, or if you are interested in becoming a dietitian yourself, you can visit the Academy of Nutrition and Dietetics Website.
What is the difference between a Registered Dietitian and a Nutritionist?
The difference between dietitians and nutritionists is their type of education (and experience). All dietitians are nutritionists but not all nutritionists are dietitians. There is no legal backing behind the term nutritionist. Therefore, anyone can call themselves a nutritionist without legal action. The term Registered Dietitian is protected, meaning you cannot call yourself this if you have not completed the appropriate educational pathways noted above.
Why is this important? It protects the public.
If you are seeing a dietitian, you are guaranteed they have received education and training in nutrition. This does not mean that there are not qualified nutritionists, it just means you need to dig further. If someone calls themselves a nutritionist, find out what their training is. Specifically, find out if they have a nutrition degree (bachelor, master or Ph.D. in nutrition) or if they have just completed some random online training.
There are many qualified nutritionists who have a bachelor's, master's or even a Ph.D. in nutrition but didn't choose the path to become a registered dietitian, so do your research before you work with someone.
However, if you're seeking nutrition help for your kids, I would strongly recommend finding a registered dietitian that specifically specializes in pediatric nutrition. This will likely be the safest and most effective for your kids.
What is a Pediatric Dietitian
A Pediatric Dietitian is a Registered Dietitian with extensive experience working with the pediatric population. This is important because treating kids and treating adults are very different. Pediatric Dietitians generally have experience working as part of a healthcare team. This occurs either inpatient (hospitals) or in various outpatient settings.
Many pediatric dietitians also have their own private practice where they work with kids and families one-on-one either in person, virtually or a combo of the two. Most dietitians in private practice have had experience in some sort of healthcare setting before going out on their own.
If you're looking to work with a pediatric dietitian outside of a healthcare setting, be sure to ask what their experience and area of expertise are to find the right fit for you.
One of the main reasons I advocate for parents seeking a Pediatric Dietitian is because I have seen the damage that can occur when an inexperienced practitioner (usually a non-dietitian) works with a child. But, even a dietitian without much actual experience working with kids may not take the best approach.
What Does a Pediatric Dietitian Do
A pediatric dietitian works with kids and their families to help them improve their nutrition.
The first time your child sees a dietitian they will perform a comprehensive nutrition assessment. This usually includes a full review of their medical history, getting a new height and weight, assessing their weight and height history, looking at their growth charts and getting a thorough picture of their typical food intake.
From there, they will determine what changes may need to be made and work with the child and family to do so. The number of visits needed will depend on the individual child.
Reasons Your Child Should See a Pediatric Dietitian
Being a parent is hard! There are so many things to stay on top of and feeding kids is a BIG JOB. Probably one of the hardest jobs around. Finding a Pediatric Dietitian can help put you and your family on the path to less mealtime stress.
Picky Eating
If you have a picky eater at home you know how stressful mealtimes are. A dietitian can help you navigate mealtimes, decrease the stress level and work on ways to get them to try new food. Picky eating is very common in toddlers and preschoolers, the earlier you get help, the better. Many picky eaters also have growth issues associated with their eating habits. A dietitian can perform a comprehensive assessment and help get growth back on track.
Struggling with a picky eater? Download this free e-guide to help your kid start trying new food!
Starting Solids
Starting solids is fun, but can also be overwhelming, especially for first-time parents. A dietitian can help you understand your baby's nutrition needs, what foods to serve to meet those needs and how to progress through textures. They can also help you understand the current recommendations for introducing allergens.
If you are considering starting solids with baby-led weaning, a pediatric dietitian can help you decide which method is best for your baby. They can also give you meal ideas if you're feeling stuck on what to serve. 
Nutrient Deficiencies
If your child's doctor identifies a nutrient deficiency, a dietitian can help you get things back on track. The most common nutrient deficiency I see in my practice is iron deficiency. It is especially common in toddlers who are drinking too much milk but can happen at any age. A pediatric dietitian can help advise you on the best foods to include to get your child's levels back to normal. Your doctor will also likely prescribe a supplement.
Constipation
Kids get constipated, a lot. There are many reasons for this, but diet is one of the major components. A dietitian can help assess your child's food intake to determine what they need more of (or less of) to help get things moving. 
Some kids need an adjustment to their fiber or fluid intake, some may need more activity and some may benefit from a probiotic, other supplements, or medication. A pediatric dietitian, along with their pediatrician can help you determine what your child needs.
Child Athletes
If you have a child athlete on your hands, getting proper nutrition is key to both performance and recovery. Because kids are growing so rapidly, their nutrition is especially important with high physical activity levels. Finding a dietitian that specializes in working with kids AND athletes is key.
Weight Concerns
If you or your child's doctor has concerns about their weight or growth a pediatric dietitian can perform a comprehensive assessment to determine if there is a true issue. Specific things to look out for: if their weight is progressively increasing, decreasing, or plateauing. These may all be signs that something is off.
Food Allergies
If your child has food allergies they may be missing out on key nutrients by eliminating foods from their diet. A pediatric dietitian can help ensure they are getting those nutrients from other sources. Milk protein allergy is a common one and finding the right milk alternatives can help.
Other Reasons
There are many other reasons to see a pediatric dietitian, not reviewed in this post. If you have any concerns with your child's growth, diet, or nutrition, talk with their pediatrician about getting a referral or read below for additional ways to find a pediatric dietitian.
How to find a Pediatric Dietitian
If you are a parent and looking to work with a pediatric dietitian, there are a couple of searches I recommend.
Academy of Nutrition and Dietetics: Search "Find An Expert"
This is ideal if you want to work with a pediatric dietitian in person or utilize your health insurance for a specific medical issue. Any dietitian that enrolls in the find an expert tool will pop up when you type in your zip code. You can see their specialty area when you click on their profile.
Pediatric Nutritionist Near Me: via google search
Pediatric Dietitian Near Me, Pediatric Nutritionist Near Me, Child Nutritionist Near Me. Any local dietitian listed with Google that works with kids in your area should pop up in one of those searches. Pediatric dietitians local to you who note in their google listing that they are a pediatric dietitian will pop up on the top of the page. Google recognizes your zip code. Use the listings to see if any are a good fit for you, always double-check their credentials and experience.
Reach out to other local Dietitians
Other dietitians in your area should be able to give you recommendations for a Pediatric Dietitian locally if you haven't been able to find one on your own. I often get calls from parents who were referred to me by other dietitians. If a client calls me that is not in my specialty area, I refer them to another dietitian who would be a better fit for them. Most dietitians are great at networking with other dietitians and know many people who may be a good fit for you.
I hope this post gave you a good overview of what it takes to become a registered dietitian, and how to find the right Pediatric Dietitian for you. If you are looking for a pediatric dietitian/child nutritionist to work with you can contact me for more information on working together or I will help direct you to the right place.